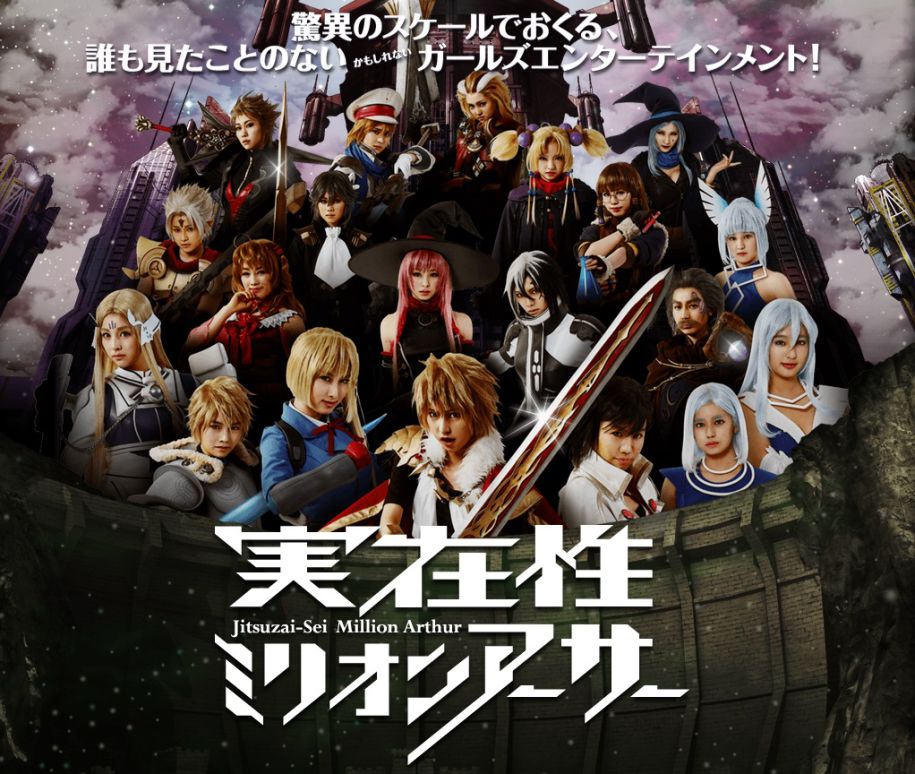 With 12 million downloads world-wide, Square Enix's number one card game "Million Arthur", have release news of their upcoming Million Arthur real-life TV show along with its official website.
In addition to the main story plot of the game, Million Arthur's TV version includes musical and big battles element. MOST IMPORTANTLY, ALL 20 of the main cast are FEMALE Actresses.
Tentatively, the show is slated to release in Japan on the 3rd of October. There are 24 episodes, each running 15 minutes long.  More news and information will be released on their site.
■

STAFF




【原作】




「拡散性ミリオンアーサー」(スクウェア・エニックス)

【スタッフ】




演出:住田崇(「戦国鍋TV」ex)




脚本:熊本浩武(「戦国鍋TV」ex)




世界観監修:岩野弘明




製作人:広野啓




執行製作人:安藤武博




制作:ILCA

【ED曲】
「悲しみキャリブレーション」妄想キャリブレーション
作詞:利根川貴之 作曲:利根川貴之、坂和也
編曲:坂和也&Wicky.Recordings

【企劃・製作】
実在性ミリオンアーサー製作委員会

■ CAST
アーサー -剣術の城-:楠 世蓮
アーサー -技巧の場-:藤嵜 亜莉沙
アーサー -魔法の派-:水越 朝弓
ランスロット:横田 美紀
ガウェイン:風間 亜季
ガラハッド:柳 ゆり菜
フェイ:井之上 史織
リーフェ:村上 友梨
エル:白石 光
マーリン:夢眠 ねむ
グィネヴィア:田中 美晴
ニムエ:佐藤 麗奈
モードレッド:ルウト
モルゴース:護 あさな
エレイン:加田 穂乃華
モーガン:野口真緒
ロット:綾那
ユリエンス:市道 真央
ブランデゴリス:近藤 ゆき
リエンス:文山 恵
Million Arthur TV show official Site