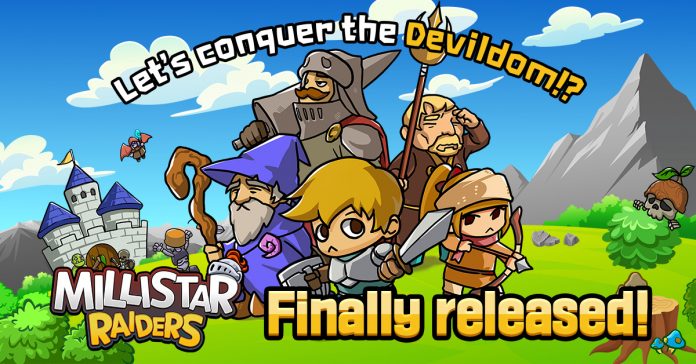 Millistar Raiders, an Idle RPG full of casual, cute graphics and a unique worldview where villagers become heroes, has finally been released!
'Millistar Raiders' is an Idle game in which the player becomes the captain and collects 13 villagers to help them grow. When the party is formed, the battle will unfold automatically, and players will have to do their best to occupy more areas and go even further.
The Pig King is looking for players who would be worthy of becoming captains of a team of extraordinary avengers!! Are you ready to take up the challenge?
Mission 1. Transform 13 ordinary villagers into warriors!
The captain's first mission is to collect 13 unique characters, including a farmer, a baker, and a drunkard, and help them grow even stronger! The captain will have to form a group of 5, modify it according to various circumstances and send an automatic battle expedition group to Devildom. Offline rewards have also been planned for busy Captains, who have to be away for a while.
Mission 2.  Rob Kim Brocker's treasure house!
As the Captain's stats increase through Enhancement, Growth, and Awakening, all heroes' stats will also increase. Various dungeons will be waiting for the captains to grow even more in the game, so don't miss out! It's said that there are also over 70 types of captain equipment, so equip yourself and help your raiders grow even stronger.
Mission 3. Find loot and collect lost items!
In order for the heroes to grow faster, collect random treasures left behind by the monsters! New treasures will appear with each monster, so keep moving forward to find new loot and lost items!
The Pig King of <Millistar Raiders> is desperately looking for his new captain. In celebration of the game launch, attendance events, community events (Discord Community: https://discord.gg/jYTW9nzQc9) and more have been prepared for the captains who will lead the Devildom Conquest. Download <Millistar Raiders> from Google Play Store and Apple App Store and go on an adventure now!
Download Here (onelink)