Colopl, Inc. has announced the launch of their latest mobile game, Neko Golf -Anime Golf-. Players who are interested in the game can now download it from your local App or Play Store.
Neko Golf is a fantasy golf game based on Colopl's famous IP, Shironeko (White Cat Project). Hone your skills, tour vast courses with players from around the world and challenge the strongest of them all.
Since the gameplay the same as any other golf games, let's talk about the controls for Neko Golf. Unlike most golf games where you only need to time the moving bar and tap once to stop it at your designated power, Neko Golf has an added "Swing" motion. Players will need to pull back the "club" to decide the power, swing it back to the moving bar to hit the ball with accuracy.
This feature can be a little bit difficult to master and it'll definitely take you some time to hit the ball accurately. Even then, it will not be easy to replicate every hit with 100% accuracy. Check out the gameplay video below to have a better understanding of the game.
Gacha
Currently, gacha unlocks new characters and accessories that are purely aesthetic ingame. You can get new clubs with better stats by playing the game and acquiring loot boxes. Alternatively, you can buy more loot boxes through the Item Shop.
Courses, Game Mode
Currently, there are only 2 courses available in the game that are both pretty basic and newbie friendly. Do note that since this is a fantasy golf game, there are up to 27 holes for each course. I believe more will be unlocked when the tournament event goes live.
At launch, there are 3 distinctive game modes. The Casual mode is where you'll go 1v1 with another Player playing 2 holes. The Battle Mode is a 1v1 PvP where the winner is decided with the least amount of strokes. You can end the game with just 1 hole or up to multiple holes depending on who lets up first. Next we have the Free Match where you can play with your friends up to 9 holes of each course. You can decide which holes to play or hit the random option.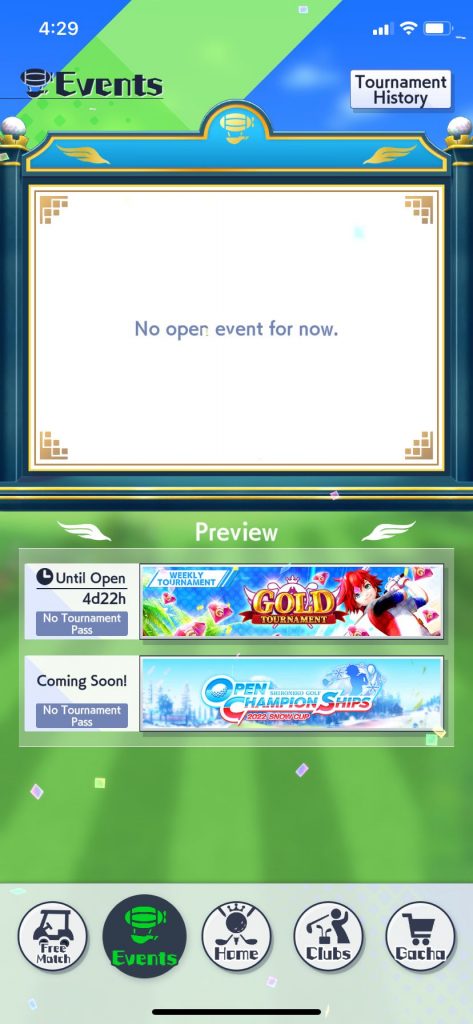 Tournaments are not available at launch. The first tournament will be available 5 days later as I believe Colopl wants you to have more practice before having a shot at the tournament.
If you enjoy playing fantasy golf games, I strongly recommend you download and try the game. Unless you are going all out to play competitive in the game, you do not really need to reroll for another character as getting the skill-shot right is definitely a more crucial factor for winning the game.
Publisher
Colopl, Inc.
Platform