Bandai Namco has finally announced the pre-registration event for One Piece Thousand Storm! They have also released a new trailer for the game so check it out below!
It's been 2 years since Bandai released a full-fledged One Piece game and after the success of One Piece Treasure Cruise, I expect to see the same awesome response for One Piece Thousand Storm. One Piece Thousand Storm is a Strategy cum Tap-Battle game. In a Third-Person view, Players are suppose to strategized and position characters to defeat enemies. Combat is automated as long as the enemies are in your character's attack range. The only thing you need to worry about is positioning and using of skills.
They are tons of prizes to be won in this pre-registration event so let's take a look at it below!
1. East Blue Event – (Pre-registration with Email)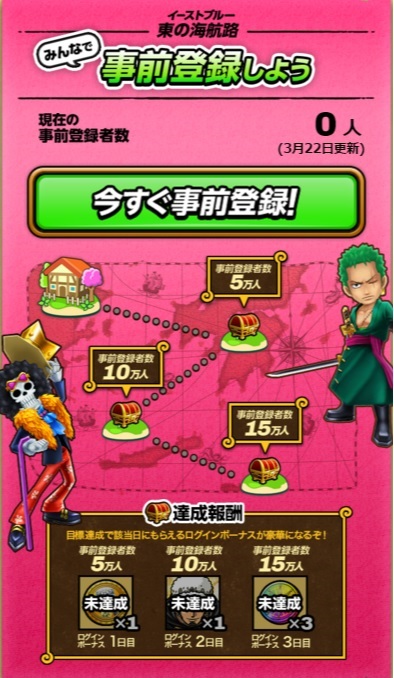 50,000 People – Law (2 years ago) Character Medal x 1
100,000 People – Law (2 years ago) Skill Background Card x 1
150,000 People – Gem x 3
2. West Blue Event (Follow Official Twitter Account)
15,000 Followers – Law (2 years ago) Character Medal x 1
20,000 Followers – Enchant Background Card x 3
30,000 Followers – Law (2 years ago) Character Medal x 5
3. North Blue Event (Quiz)
Wave 1: 10,000 Correct Answers – Law (2 years ago) Character Medal x 1
Wave 2: 10,000 Correct Answers – Gem x 3
Wave 3: 10,000 Correct Answers – Card to sell for gold x 3