This week's One Piece Treasure Cruise's event we have the battle against Alvida and a new map (Loguetown) release before the Grand Line.
Loguetown is now available for players to adventure. Players will get a total of 5 free gems by completing all the stages in Loguetown. Here are all the farmable characters from Lougetown.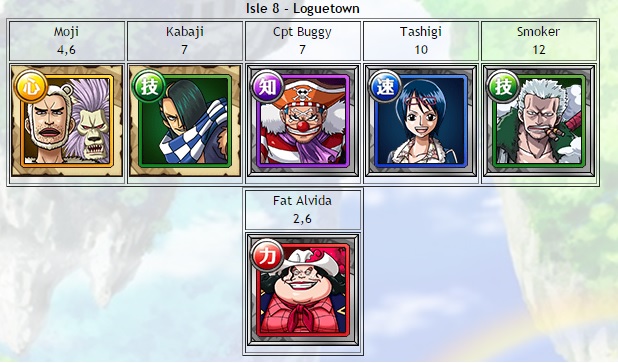 Event map – Alvida's Romance 
This week's event map we have the not-so-fat lady, Alvida in da house. Alvida can be extremely easy to defeat or extremely difficult if you don't have the right unit. Alvida has A LOT of defense but only 15k HP. If you got Helmeppo, use his special to bring Alvida's defense to 0 for a turn and the rest of your team's special to kill her off. Some of you might not even need to tap battle and just kill her off with your Specials.
Stand a chance to get Alvida's card and also the book to boost Zoro or Chopper's Specials!