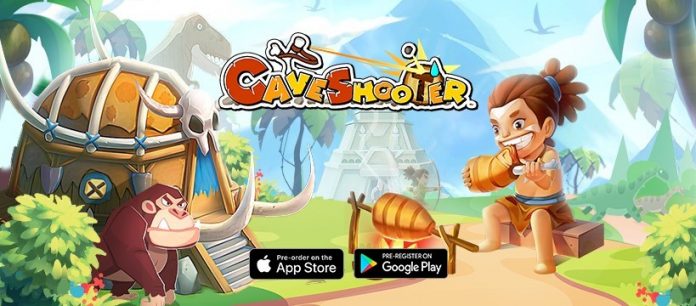 The most popular idle mobile game of 2021, Cave Shooter, is coming your way! Are you ready to hunt and save the tribe with your friends? The "Cave Shooter" fight is imminent and the pre-registration is officially open! 7 levels of fabulous Pre-registration Rewards will be issued according to the number of registrations and now there have been 1.5 million registrants hitting the pre-registration button! Call upon your friends to pre-register now, and unlock more fabulous rewards.
Cave Shooter is casual mobile game mixing roguelike mechanics with idle gameplay. You can shoot to clear stages and venture forth easily with one hand in any free time. Random maps, skills, traps, and monsters make it more challenging. Craft your own combinations of skills and weapons that help you survive in this primitive era. Upgrade a wide range of powerful weapons and gear to craft your exclusive set. And the most important is adorable Triceratops, cute baby Pterosauria, dozy Brachiosaurus and countless of other pets are awaiting your command.
Cave Shooter pre-registration is now available on iOS and Android, and it is expected to be released worldwide on August 31. Click on the link below to participate in pre-registration and be ready to embark on this adventurous journey in primitive time!
50k Registrants – Revival Potion x1, Coin x1000
100k Registrants – Key of God Chest x1, Coin x2000
200k Registrants – G3 Gem Chest x2, Forgotten Heart x15, Coin x5000
500k Registrants – G3 Gem Chest x5, Forgotten Heart x35, Coin x10000
1m Registrants – G3 Gem Chest x10, Fiery Sulphur x35, Coin x15000
1.5m Registrants – G3 Gem Chest x15, Ancient Soul x20, Coin x20000
2m Registrants – Neko Hunter x1, G3 Gem Chest x15, Ancient Soul x30, Coin x30000