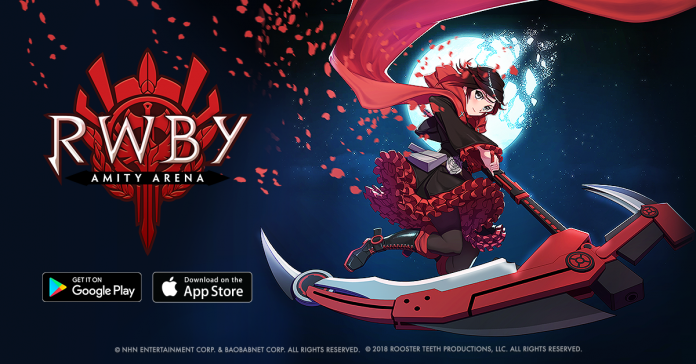 NHN Entertainment Corp and Rooster Teeth are happy to announce the start of pre-registration for RWBY: Amity Arena. This new mobile game will be available in Fall 2018 on Google Play and the App Store in select countries.
RWBY: Amity Arena combines real-time strategy with collectible cards for dramatic PVP battles.
Set in the world of Remnant, players build Huntsman and Huntress teams based on their favorite Vytal Festival Tournament contenders. Choose iconic RWBY characters or round out your team with White Fang combatants, Atlas tech, or creatures of Grimm. Collect and upgrade cards to build the RWBY team of your dreams. Put Yang on the front line to obliterate foes with a barrage from Ember Celica. Position Ruby to support her, sniping with piercing rounds from Crescent Rose. Guide Weiss to freeze your enemies with a Glyph of ice. All while Blake sneaks through the shadows to destroy their towers and end the match!
Fans of the RWBY series will delight in seeing the different biomes of Amity Arena. Players battle through the arenas and use each unique Semblance to claim victory in the tournament! Tremendous efforts were made over the last few months to balance the characters to make it feel as true as possible to the original series. More fan favorites are in the works, so stay tuned into the RWBY: Amity Arena social pages for updates!