The moment you've been waiting for guys! Sky Arena is back and with it is another event. This time, Bandai has increased the pvp tickets to 5 which means more battles which means more competition!
I'm not sure if it's going to be the norm now, but lately, Bandai has been releasing many new cards with each week's event and it sure is tiring for me as I've forgotten most of the characters name and have to search for them again :P. 10 more levels are added to the season 3 Sky arena for a total of 120 levels. This means that players will have to spend more time climbing up to the top to get the  Lucifer card. However, to see things positively, that's 10 more extra prizes (I do like that undead Kite card at level 90). I'm not sure if this is new but there's also a ranking event where players will be rewarded according to their final ranking against the world's players. The top 100 rankers will get the Lucifer card, 25 Gems, 150 Diamonds and 750 Opal.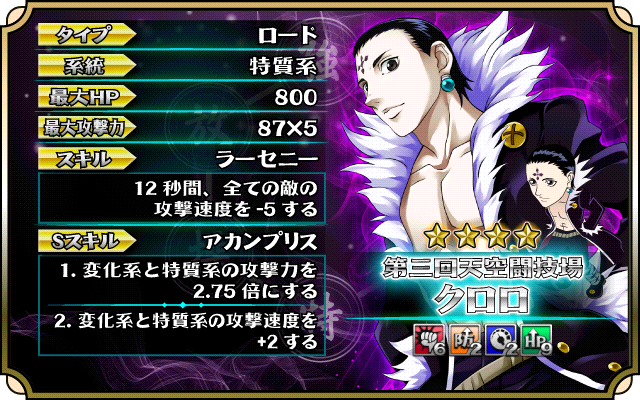 Event Map
I can't remember if this is a rehash event but I have this vague memory of the banner before. Anyway, this week's event is between Shoot and Knuckle. Players will have a chance to win their respective cards and upgrade materials (only from "Hard" difficulty and above).
Here's this week's Gacha Card:
Kongbakpao's Sky Arena Event
Similar to Sky Arena 2, I'll be sponsoring $10USD/1000Yen google play or itunes credit. Whatever money generated from advertisements on THIS PAGE only will also be added to the prize pool. I have a Dollar carried over from the previous event.
How to win:
1. Be the first person to complete all 120 levels of the Sky arena and post a Screenshot here or;
2. At the end of the event (2 weeks later), the person with the highest score (with SS) will win the Prize pool.
I'm looking for people who are interested in sponsoring a 2nd prize. If you're interested in helping to grow the Hunter community, please message me over at Facebook or drop me an email.
GO CLIMB THE ARENA PEOPLE!
Current Prize Pool : $11 USD  11/19/2014