As we approach the end of 2014, I've compiled my own top 10 list of Free-to-Play (Gacha) Japanese mobile games that I personally am looking forward to. I'm sure that there are some games on the list that will interest you and burn your pocket for the rest of 2014. Guess what, 4 out of 10 games are from Bandai Namco.
10. Summon Night Memories
From the screenshots, the game reminds me of tactical games such as FF tactics where players have to move their characters tactically to defeat enemies.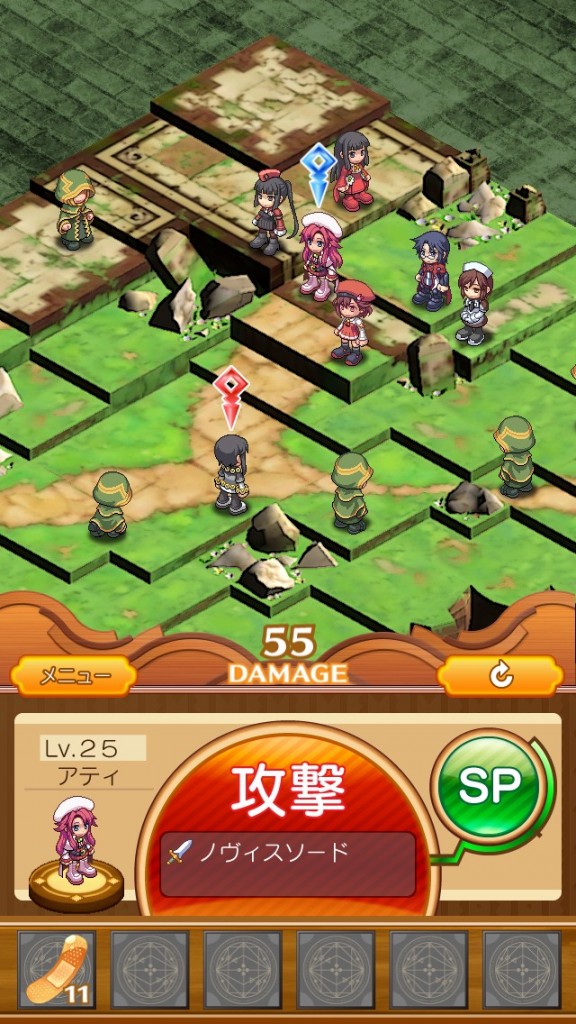 Publisher
Bandai Namco
Official Site
9 Dragon Ball Dokkan Battle
Alright, I admit that I'm not exactly a Dragon Ball fan but I'm pretty sure many of you are. Plus, the game's from Bandai Namco, how bad can it be (Gacha aside)? There isn't much news or screenshot on the game yet as it was first announced during last month's TGS. Stay-tuned here as I'll bring in first hand information about the game once I've gotten it.
Publisher
Bandai Namco
Official Site
8 Hortensia Saga – Ao No Kishidan
Not much information about the game but it is supposed to be Sega's sequel game for the top hit; Chain Chronicle. The game does look decent and feels like a 3D version of CC.
Publisher
Sega
Site – To be confirmed
7 Dragon Spin

I've posted the pre-registration for the game earlier last week. If you like slots and Japanese style Gacha games, you'll like Dragon Spin. The game seems to have many Waifu characters for you players to collect and the slot machine looks better than most of the Slot RPG games out there in the market. I really hope the game's good and it should be since it's produce by the legendary Tetsuya Mizuguchi.
Publisher
Mobcast
Official Site
6. NBA Clutch Time
I'm not sure how or why a Japanese company managed to get the rights from NBA to produce a basketball game with all of the NBA's 30 teams and 500 players. However, that's not important as the game does look awesome. I like how the game decides to use the "big-head" art-style instead of the usual realistic approach. The game will be out soon in Japan during November. Players can start pre-registering and participate in the flying gacha to acquire your 6* NBA Star.
Publisher
Marvellous
Official Site
5. Chronos Ring
Another game that was just announced during TGS last month, Chronos Ring is Konami's new IP. Information on the game is scarce but from the video, it seems similar to White Cat Project. Anyhow, the game does look good and will be rank number 5 on my list.
Publisher
Konami
Official Site
4. Final Fantasy Artniks Dive
The game has started its pre-registration since July but there's still no concrete news on when is it's release date. I'm a fan of the FF franchise and am quite excited for the game. Unlike FF Record Keeper, Artniks Dive features original characters that are not found in the previous titles. The game does have the nostalgic FF on Gameboy graphics which is a big selling point for the game.
Publisher
Gree
Official Site
3. One Piece Dance Battle
I don't have much to say about the game. Just look at Nami in her bikinis. Once again, well done Bandai Namco. Take my money already.
Publisher
Bandai Namco
Official Site
2. 3594e
I'm not sure if it's right to rank this game second on my most wanted list as I can't read Japanese and the game's suppose to be story driven with lots of cut scenes and text. However, if you guys have followed me long enough, I'm a succor for 3 Kingdom games and since the game's from Square Enix, it shouldn't go wrong.
Publisher
Square Enix
Official Site
1. Sword Art Online
The one game that it's pre-registration would have irritated many of you by now. The one game that made you refresh your browser over a thousand times for a small chance of acquiring Kirito's harem. The one game that most, if not all Anime Gamers are looking forward to. Sword Art Online. To be honest, the game doesn't look any special, in fact, it looks so dull that if not for the IP, people probably would not have noticed the game. However, we're talking about Bandai Namco here. They're the King in milking popular manga/anime IPs in Japan.
The game would naturally be the number 1 most anticipated JRPG mobile game for the year 2014.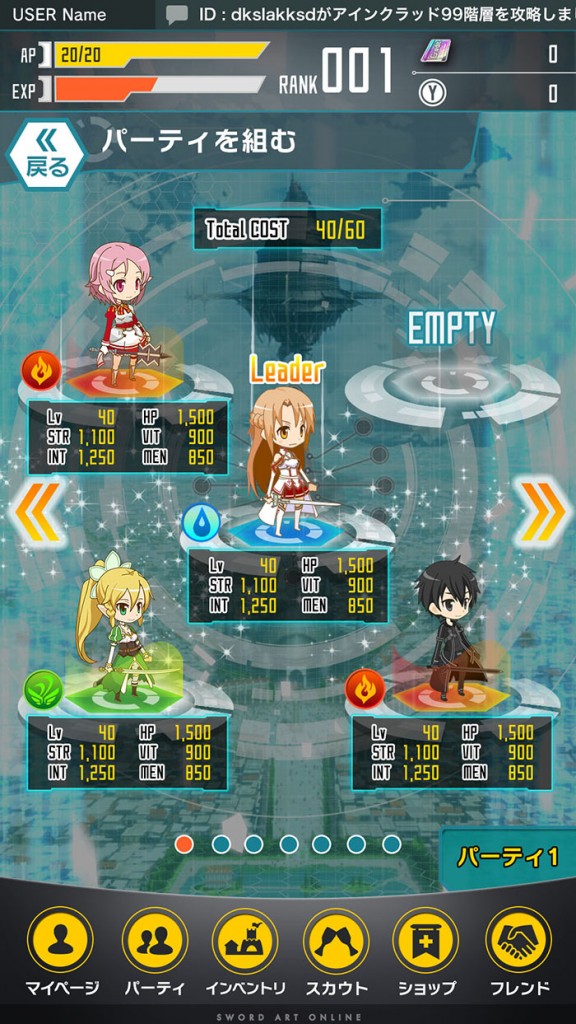 Publisher
Bandai Namco
Official Site
I've come to the end for my top 10 most anticipated Jmobile games for the year 2014. I'm pretty sure most of you are as excited as me for some of the games listed above. I'll be bringing you the latest update for any of the game's release and hope you guys can play with me.